COVID-19 - Resources & Slide Ideas
Tips

As businesses start to reopen, keeping your staff and visitors safe is a priority. With Vibe, you can get the latest COVID-19 updates onscreen in near real-time; efficiently and effectively.

TIP #1: Assess your content and decide if you have an existing slide you can simply add to or whether you need a new layout.
TIP #2: Re-purpose content from resources such as PDFs, emails etc. For example a PDF, like the one shown below, could be added to Vibe.fy in one of two ways: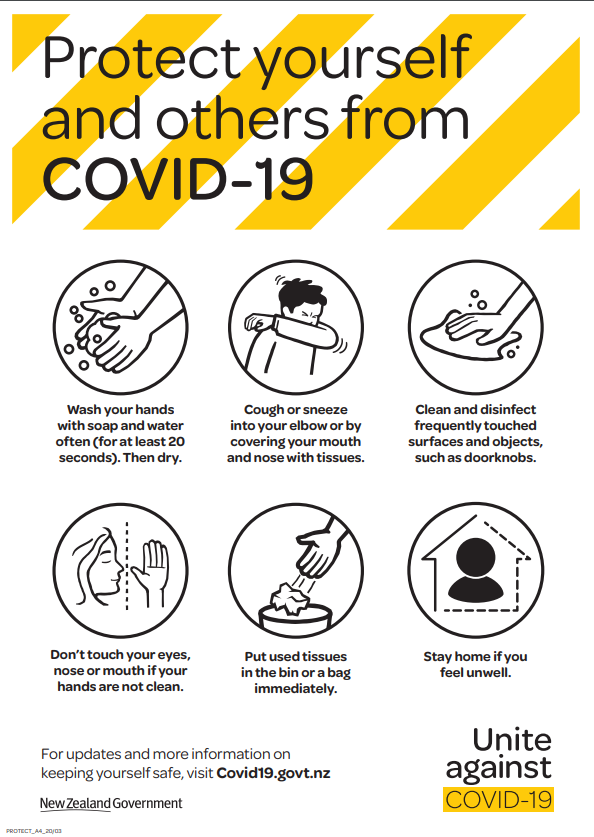 "Poster" layout
If you have the Vibe-Poster template and a content stream setup, simply convert the the PDF to JPG (cropping out any headers/footers) and upload the image in Portal > Content Streams.



"Message Bubbles" layout
Use a "COVID-19" style background to bring attention to the slide and show each hygiene tip individually using the icons from the PDF. You may need to engage your graphics team to help you save the individual graphics in a hi-res Digital format.


Free Download

If you would like to setup a 'Message-Bubble' slide like the one above, simply:

Download and unzip the attached folder (scroll down)

Create a new slide using the 'Message-Bubble' template

If you need help adding a new content stream for your slide, contact support@vibe.fy.

Related Articles

Infotainment - Default Slide Durations

Our entertaining up-to-the-minute content package includes a mixture of dynamic and personally updated slides by our support team. We preload entertainment slides with the recommended duration. However, you are welcome to update the slide duration ...

Training (Messages)

Slide Inspo ​ ​ Template Data Tips Sheet Column Content Required Content Heading Any text YES Content Summary1 Any text YES Content Summary2 Any text. If you want to show multiple messages on the slide, you can separate them with a new line and a ...

Countdown

Slide Ideas Countdown to your next event! Conference start date Project deadline Date of office move Project launch Social club event So many options! Check out this quick video to get inspired: ​ Create your slide This slide is so simple to setup. ...

Data (Days Since)

Slide Inspo Use these ideas for inspiration when creating your next slide: Day Count (# of days since the event took place) Data Insights - Single Day Count Data Insights - Multiple Day Counts (wait a few seconds to see the transition...) Data ...

Advert

Slide Ideas While we don't recommend using your workplace digital signage to display static graphics on repeat, you can easily upload images. Here are our tips for using static graphics: For best results, create your images at the correct dimensions ...