Creating or Editing Schedules
Using a built-in scheduler, you can control where and when your streaming media slides and playlists are displayed.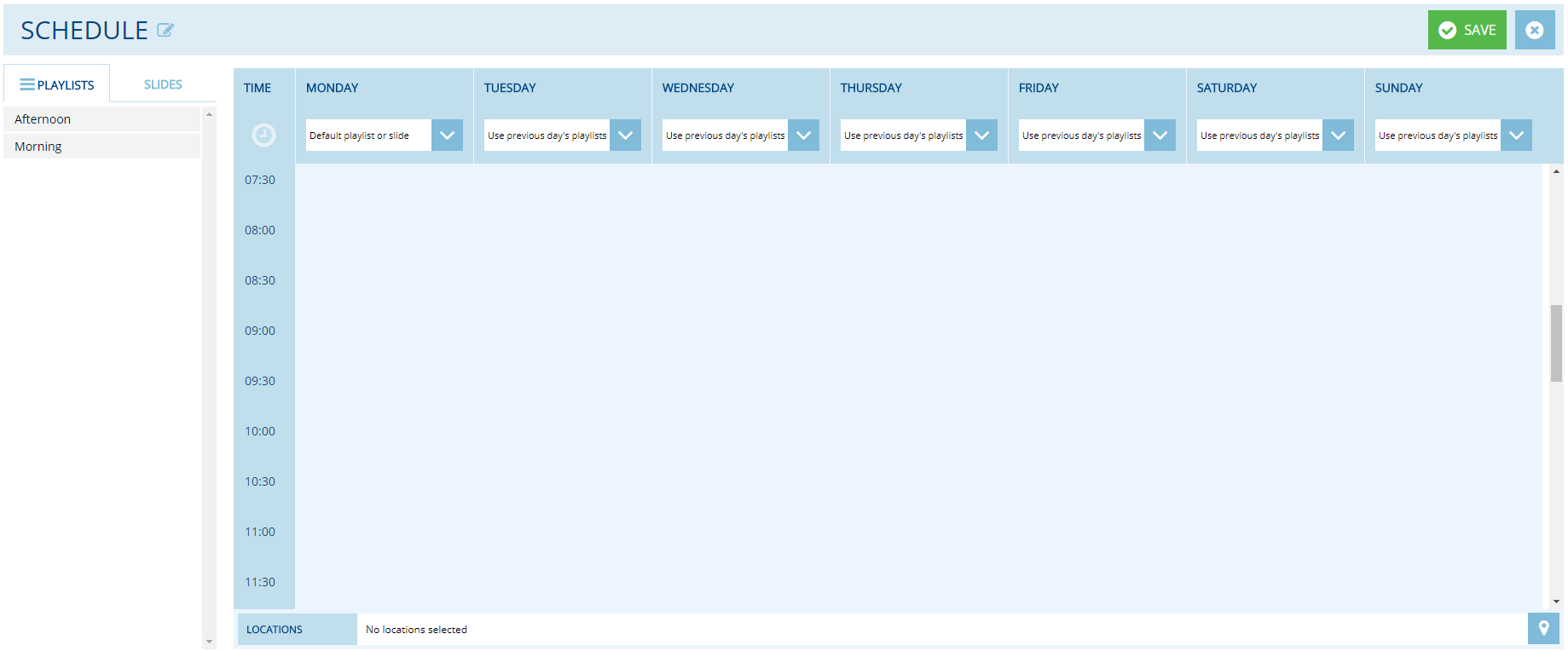 By default, all active schedules are listed in the Schedules tab.

Hovering in the Pin Icon will show where the schedule is assigned to which Location

---
Go to Menu -> Schedules



To create or edit schedules:

Click + New Schedules


Or duplicate an existing schedule


Or click the Edit Icon


Assign the new schedule to a location


Note: Selecting locations with assigned schedules will override the setting
are assigned schedules, are assigned playlists



Setup your running schedule. The multiple ways of setting up your schedule are:

Use previous day's set schedule to duplicate the previous day's schedule



Drag and drop Playlists or Schedules into your time slot





NOTE: Default playlists/slides will continue to play throughout the day unless a playlist or slide is added to a specific time slot.

TIP:

When adding playlists to the scheduler, you do not need to add the same playlist to each time slot. If you add a playlist to the 6am slot on Monday and another playlist in the 12pm slot on the same day. The 6am playlist will continue to play up until 12pm.
You can add multiple playlists to a half hour time slot.



Click Save


KEY INFO: The default time between syncs is 5 minutes. All saved changes will appear on your digital signage when a full sync has run.
Related Articles

Deleting Schedules

To delete a schedule, use the [Status ] dropdown or click th (Delete Schedule). NOTE: Deleted schedules can be restored before the next purge cycle; after which they are permanently deleted. To restore a deleted schedule, use the search fields to ...

Creating a New Info Bar Location

Information bars or info bars are strips of scrolling text at the bottom of the digital signage screen. Utilise this feature to make instant and on-the-go announcements Before you can send info bar announcements, an info bar location needs to be ...

Screen Sizes

Open the Contegro start menu and select Settings > Screen Sizes Select the Screen Sizes tab. From the Screen Sizes page, you can: Add new screen sizes (to match your on-site digital signage/channel) Edit screen size settings Delete unused screen ...