Creating a New Info Bar Location
Information bars or info bars are strips of scrolling text at the bottom of the digital signage screen. Utilise this feature to make instant and on-the-go announcements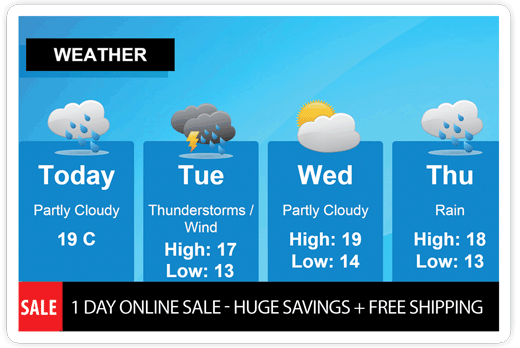 Before you can send info bar announcements, an info bar location needs to be setup first.
Note: Your admin account needs to have permissions to access this setting. Contact our support team to ask access.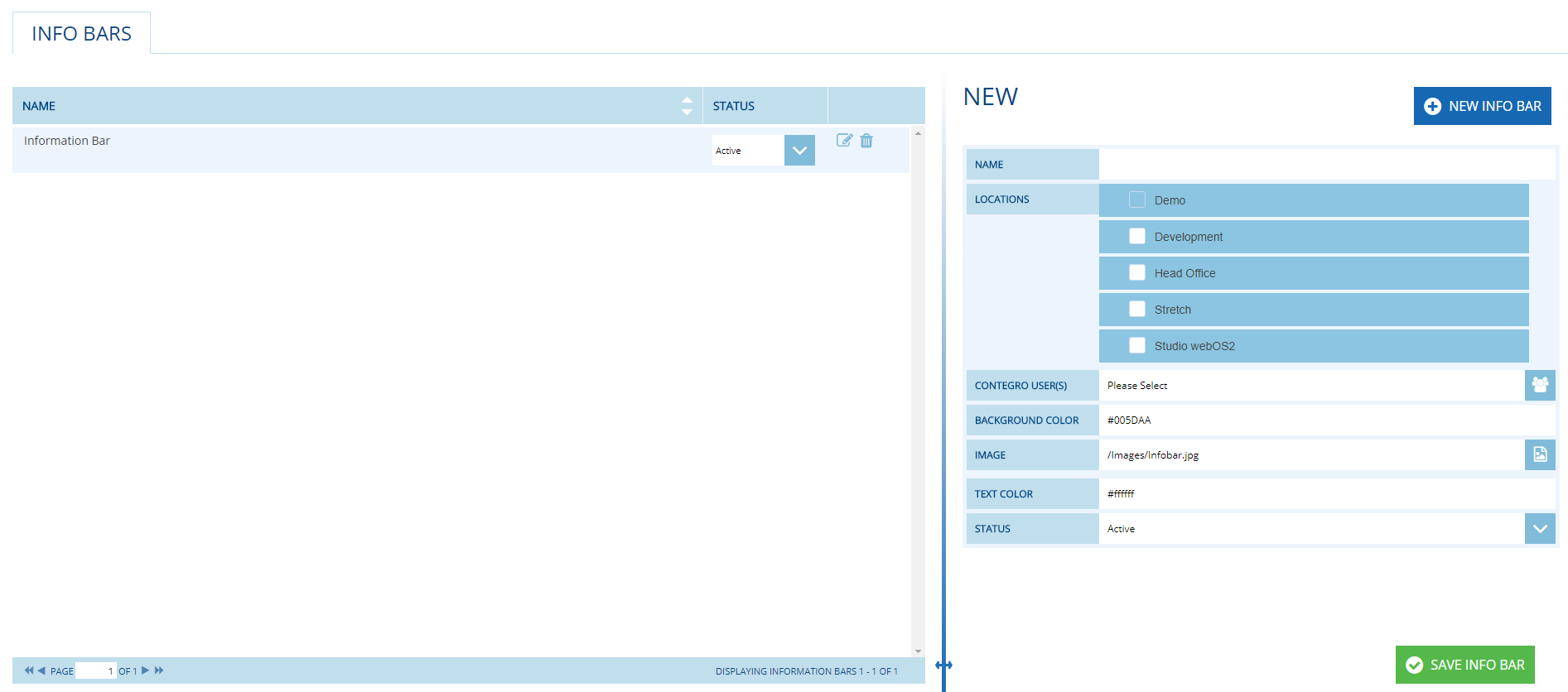 ---
Go to Add On Modules > Digital Signage > Settings



Select the Info Bar tab



Click + New Info Bar



Enter the following fields in the New panel to add your new info bar.




Name

Enter info bar name. Use an easily identifiable name, e.g. All internal screens, Staff channel, Reception.

Locations

Select the location(s) where this info bar will be displayed.

Note: If the content intended for the scrolling info bar area is location specific, add one info bar per location. If your info bar content is global, you can add one info bar to multiple locations.

Contegro User(s)

Select one or more users who will have access to edit the announcements via the member portal

Background Color

Enter a color hex code to set the info bar background color.

Image

Use this field to set a default background image (optional). The image size should match your info bar screen size (e.g. current standard is 1920px x 160px).

Note: Create images at the correct size as they are not automatically optimised to fit the info bar area.

Text Color

Enter a color hex code to set the info bar text color.

Status

Set the info bar status.

Click Save Info Bar


TIP: Users can be assigned to multiple info bar locations
Related Articles

Lock info bar alerts

Locked items cannot be deleted or edited in the portal. Login to the admin console Open Digital Signage > Information Bar Create or edit the info bar alert Switch the 'Lock Item' toggle on to remove access to this alert in the portal

General - Enabling Information Bar

LG Screens Press the Yellow Button on the remote: If using a remote to update the settings, use the arrow buttons to highlight the Disable Information Bar checkbox. Press the OK button the remote to uncheck the box. If you are using a mouse, simply ...

Creating or Editing Schedules

Using a built-in scheduler, you can control where and when your streaming media slides and playlists are displayed. By default, all active schedules are listed in the Schedules tab. Hovering in the Pin Icon will show where the schedule is ...

Creating or Editing a Playlist in Admin

Add a new playlist Assign portal users to your playlist Assign your playlist to one or more locations Add a new playlist Go to the Playlist Manager under Digital Signage To add a new playlist: Click New Playlist or Duplicate an existing playlist ...

Screen Sizes

Open the Contegro start menu and select Add-on Modules > Digital Signage > Settings Select the Screen Sizes tab. From the Screen Sizes page, you can: Add new screen sizes (to match your on-site digital signage/channel) Edit screen size settings ...