Screen Takeover and Advanced Schedule
Screen Takeover
Learn how to inject a campaign slide or livestream event on screen at an exact date and time. This is ideal for Livestreaming events such as
YouTube and Zoom
.

If you are using the screen takeover feature to inject a livestream,
follow this guide
before you work through the steps below.
In the slide settings, open the Attributes tab, enable the

Advanced Schedule

toggle and click the

Screen takeover option.


Click the toggle to enable screen takeover and view more options



Screen Takeover settings


Start Date & Time - Required
End Date & Time - Required
All Day - Optional

Repeat - Optional
IMPORTANT: Use the 'Specific Dates' repeat setting to add multiple start times for your screen takeover throughout the same day and/or across multiple dates.

'Use base start time' toggle (enabled)
When selected, the original start time will be applied to any dates you select. This is ideal if you want to run your livestream across multiple days at the same time.

'Use base start time' toggle (disabled)
Select one or more additional dates/times to take over the screen. This is ideal if you want to rerun your livestream across multiple days at different times.


Locations - Required
NB: Check that your slide duration is set correctly and aligns to the screen takeover start and end times.


NB: Emergency (Full Screen) info bar alerts will
take priority
over an active slide screen takeover. However, the screen takeover setting in the slide editor will override playlist, schedule and standard information bar alert settings.

IMPORTANT - Your changes are autosaved.

Once you set locations, your slide will be automatically injected into the selected screens/devices/webview at the exact time you've stated.

You do not need to add this slide to a playlist or schedule to start publishing.
Video Tutorial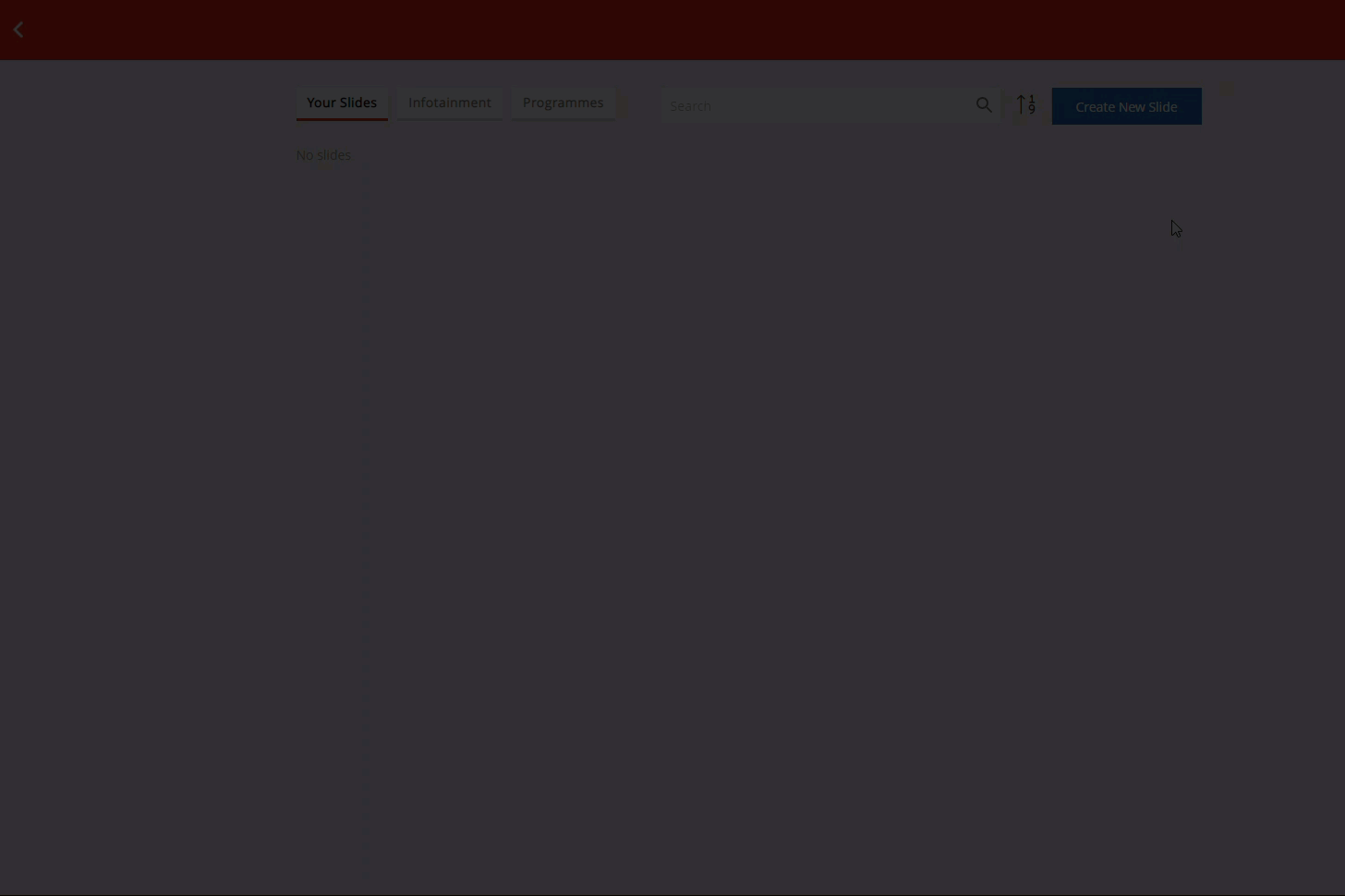 Advanced Schedule

Need to preschedule or queue up your quiz to show repeatedly? Use the advanced scheduler settings to manage the publish dates and any repeating settings.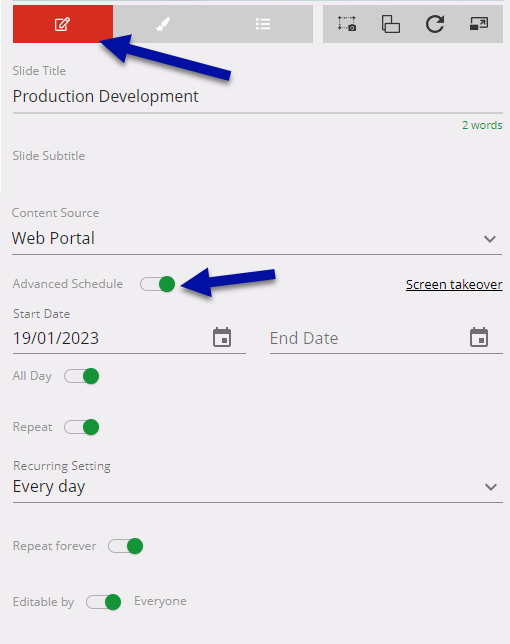 Related Articles

Image Gallery (Full Screen)

To utilise full-screen imagery, create images by following this guide: Image Quality and Dimensions Create an image gallery Manage via web portal Create a new slide using the Image Gallery template In the slide editor > Attributes tab, select ...

Quiz (Multi-Choice)

Need to create a multi-choice quiz on Vibe.fyi? Introducing the Quiz (Multi-choice) slide; it's perfect for testing and refreshing knowledge, introducing new initiatives and more. Check out this quick video to get inspired: Create Quiz Manage via web ...

Livestream

YouTube Step 1: Locate the livestream on YouTube.com Livestreams or pre-recorded YouTube videos must have a public or unlisted visibility setting. Go to youtube.com and open your livestream or pre-recorded video Copy the YouTube Video ID in the ...

Noticeboard (Hero 3)

Slide Inspo ​ Data Template Tips Update the data in the XLSX template locally (using the following as a guide), then save your changes. Data Column Supported Formatting StartDate Required DD/MM/YYYY Title Required Free format Summary Optional ...

Vibe.fyi Support Agreements

Vibe.fyi offers 3 support agreements, with the option of upgrading to a higher support agreement. Pay-as-you-go (PAYG) Total Care Premium Care Inclusive time (pre-paid) for Customer Success Resource. Used for; 3 Hours Per Month 6 Hours Per Month - ...