How to stream add a Livestream
Step 1:
Find the livestream on YouTube
Step 2: Create a Livestream slide in your portal
In the slide manager (Slides), create a new slide using the 'Live Stream' template
In the Use Content From dropdown, select 'YouTube Live Stream'
In the YouTube Video ID field, paste the YouTube Video ID (from step 1)


Step 3: Setup a schedule to auto publish your slide
Before adding the slide to a playlist, update the following attributes:

Duration (required): Set to 7200 which is a 2 hour window.
Advanced Schedule: Set the start date to the time that you want to start publishing the slide, ensuring that the YouTube livestream is live at the time selected.
e.g.


Step 4: Update/check your 'playlists' and screen 'on/off timers'
To make your sure your slide goes live at the scheduled time, remember to add it to one or more playlists ahead of time.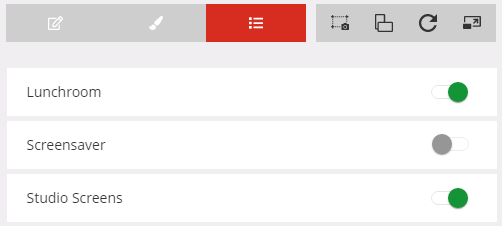 Troubleshooting
Certain Livestream Video links will not work on (older) WebOS 2 Screens.
If you reuse this slide for subsequent races, you MUST adjust the details to match the next race time.
For each livestream, you MUST insert a new ID.
Related Articles

COVID-19 - Resources & Slide Ideas

Tips As businesses start to reopen, keeping your staff and visitors safe is a priority. With Vibe, you can get the latest COVID-19 updates onscreen in near real-time; efficiently and effectively. TIP #1: Assess your content and decide if you have an ...

3 - Categorise Your Content

What content do you have to work with? What can be automated to save you time? What content needs to be created? Which system would you prefer to manage your content in? A custom content stream in Your Vibe portal or an automated stream. e.g. Know ...

Training (Bubbles)

Slide Inspo ​ Static images are used to give focus to the text. Logo area Standard Vibe space of 350 x 100 pixels Design allows for an unlimited amount of content, and will show one item in chronological order Suits a focus on written content, as a ...

Room Bookings

Room Bookings Tags: Events / Tailored This Room Bookings slide can be included within a playlist rotation on an existing screen location, or displayed on a dedicated Wayfinding screen. It shows events (or room bookings) for 'Today' only and will use ...

Training (Panels)

Slide Inspo Training Panels ​ Static images are used to give focus to the text. Use square images, other sizes will be centered. (Exact size = 1080x960) Logo area Standard Vibe space of 350 x 100 pixels Border, Highlight and Link colours are all ...