Delete a playlist

Open the menu to view the editing options
Select Delete
Select [Yes, Delete] to confirm deletion


Before deleting your playlist, check to see which devices, screensaver or webview locations will be affected and remember to assign another playlist if any of the locations are still active.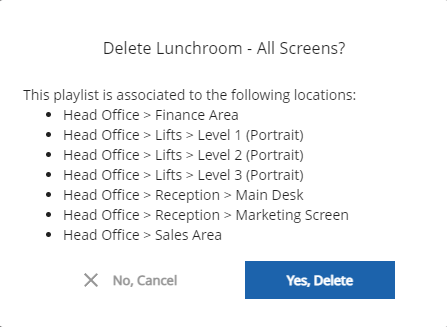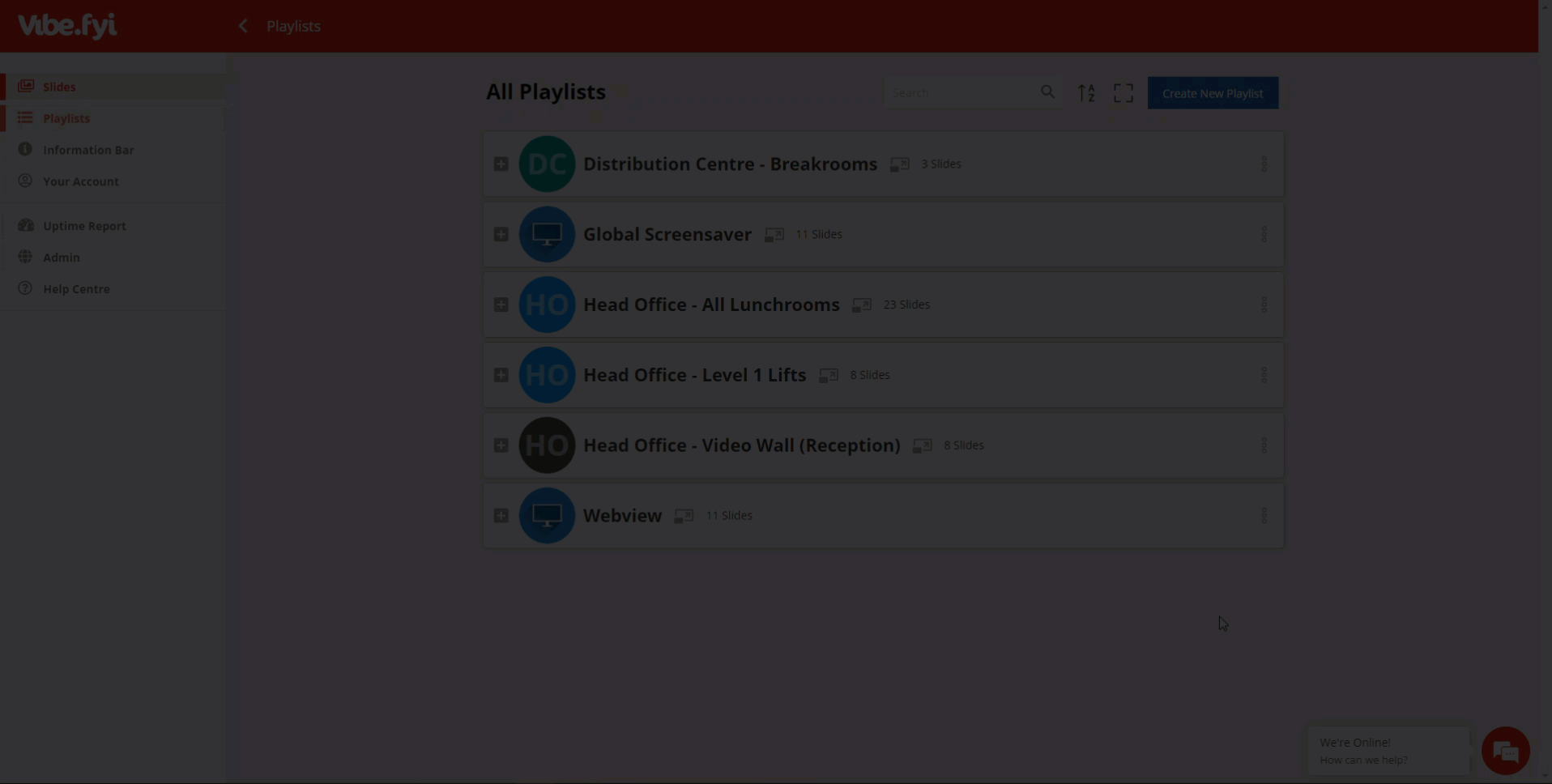 Playlist Settings

Click on the plus symbol in the playlist to see the playlist option we can manage.

Before
After


We are able to see what slides are added to the playlist inside the playlist and also in the header, i.e.: If we have infotainment or program slide in the playlist we can see
how many slides are belongs to each category
in the heading of playlist (1) as well as which slide belongs to which group, Infotainment (1) or Program (2)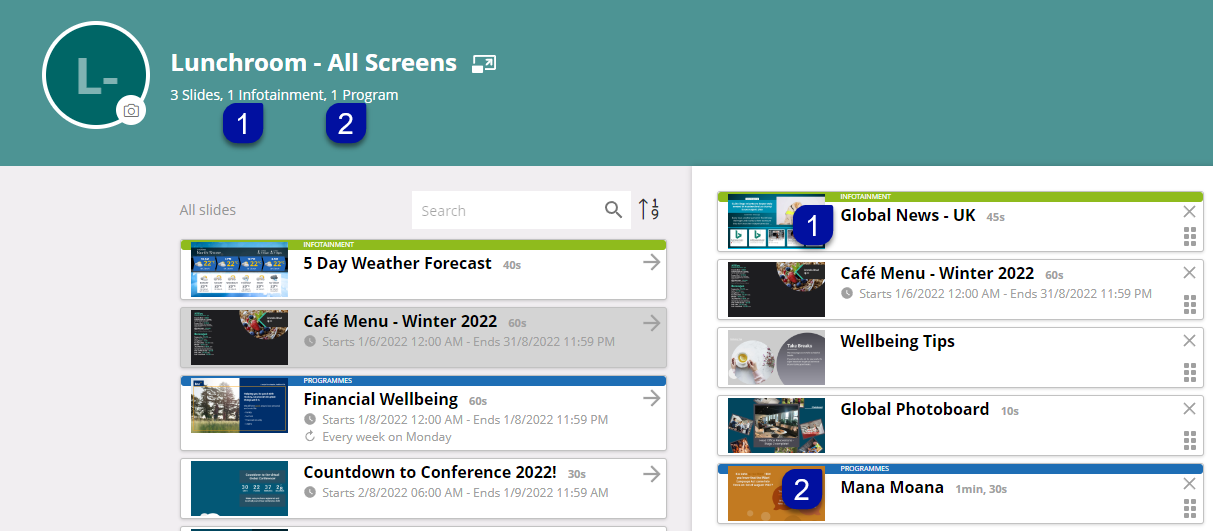 Edit your playlist name and avatar
Click on the Playlist name
Before

After

Editing the logo

Click on the space provides for the logo (1) and the image editor pops up and we are able to chose an image from the site image storage


If you wish to upload a picture from you device click on the camera icon (2) and upload an image.
Assign your playlist to a location

When we click on the manage location in playlist we can see the location list that we can assign the playlist.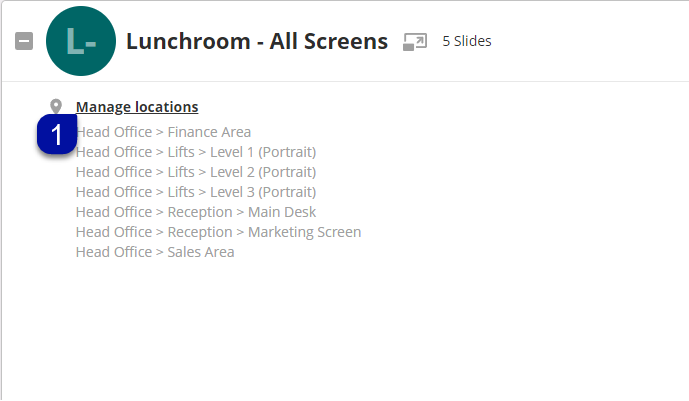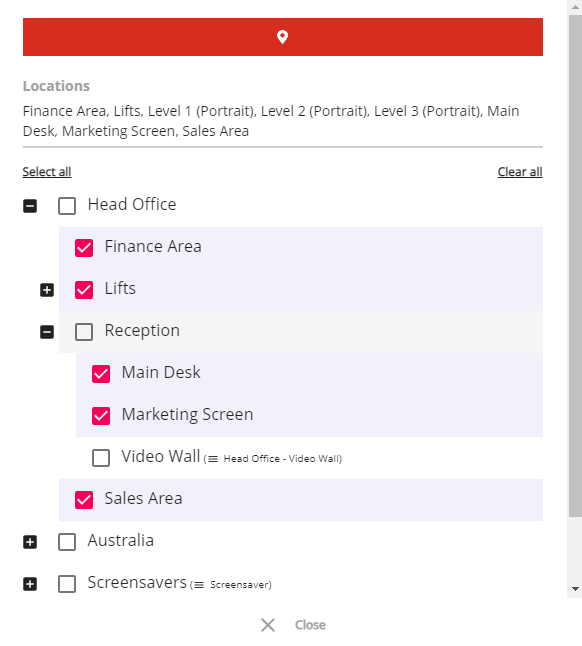 If there is no location assigned to a playlist the playlist will show in a grey shade (If the playlist is assigned to a location using schedule it will not show in grey),
eg:-


If a slide is assigned to a playlist and the playlist is assigned to a location (a) , but the slide items inside the slide are not assigned to that location (a) , The location will not download the playlist or the location wont show anything in the screen regarding the slide.
Who can Access the Playlist

The permissions for the playlist can be assigned in the playlist itself.
Click on the plus button on the playlist, we can see "Manage permission" this option decide who can see/edit the playlist.
ie - This Playlist is only editable to users who belongs to the user group "HR".

Manage the Schedules in playlist

We can edit a Schedule in a playlist if a Schedule is assigned to a playlist, Click on the Schedule and we can change the name and edit the schedules or assign new schedule to the playlist.


Vibe.fyi Inspire webinar recording

Playlist Manager Upgrade 2022

Join Aroha, our Customer Success Lead to get a sneak peek into the Playlist Manager upgrade, which is designed to give you better visibility of the content on your screens.