Slide Inspo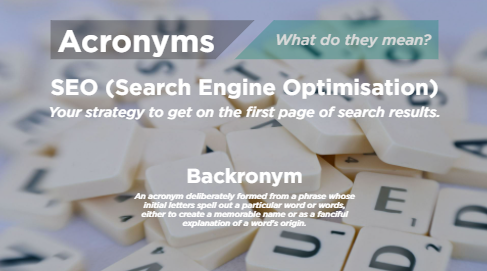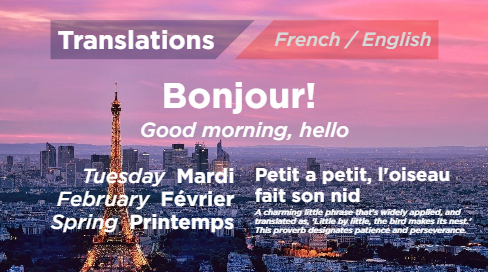 Template Data Tips
How to use the translations spreadsheet:
1. First Tab - 'Translations'
If you are looking at an existing spreadsheet, you can generally get a feel for how this data is picked up in the slide.
Specifically, the 'category' column helps to differentiate groups of words, but it also is relevant to the notes made in the second sheet, 'Phrases'.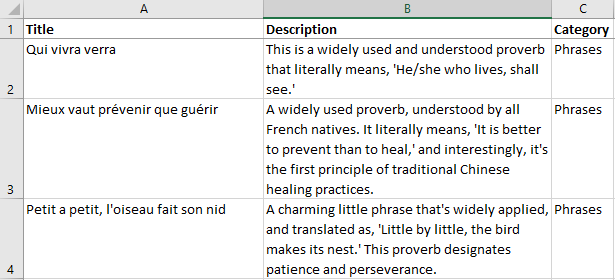 2. Second tab, 'Phrases' - Optional
This section will only appear if there is a relevant phrase, from the matching category showing.

As above, this is a section where you can add other details that are relevant to your translations, for example, on the Te Reo slide, we use this area to talk about customs and tradition. In the Acronyms slide we've used it to elaborate on definitions, and on the French template we have used it for proverbs.

You can leave this section blank, if you choose not to add anything to the second tab, it will center the date/season content (see second image below). You can also have it apply to certain categories, so it will only show sometimes.
3. Third Tab, 'Calendar' - Optional
This section is only relevant if you are translating a language. It will pull details based on the current date, and populate the matching translation. You can leave this blank as it dedicated to Calendar based Translations only.

Tips
Ensure that you have no 'curly' apostrophes in the content. They must be ' or ". This often happens if copying content from an editor. These can be tricky to differentiate, please see the example below.
"Hello!" > "Hello!"
'Hello!' > 'Hello!'