Have you just been handed a portrait sized infographic that's been impeccably designed by your graphics team? Have you been emailed a handful of printable A4 pdf's that you need to get on Vibe immediately, but you don't have time to deconstruct the graphic elements and repurpose in a usable way?
Then this template is for you!
Check out this example! It shows one image, then 'pans' across the screen, accompanied by a Title and Summary.

Use the Vibe Portal to drag and drop single images.
This slide can function with just one image. But feel free to add a Title and Subheading - You can select the
Graphic
or
Panels
to display the Title and Summary.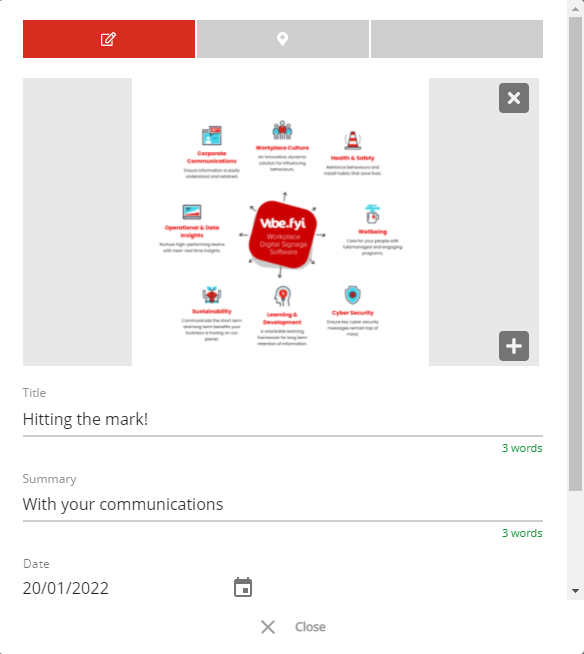 This slide is designed to
automatically
accommodate all image ratios, the animation will
slowly pan or scroll, giving the viewer ample time to absorb the meaning and intent of the text and imagery of the original design.
Wide landscape images will 'pan' across the screen from the right to the left

Long portrait images will 'scroll' up from the bottom to the top of the screen

Your images must be uploaded at a resolution suitable for your screen.

If you use a small or thumbnail sized image, the image will increase in size to fill the screen and the result will look blurry and pixelated.
See
Image Optimization

Layout = Graphic
Use this layout option when you want more control over the design and placement of the caption - than the Panels option.

The overall placement, preset margins, text alignment and animation direction, will give you many possible combinations to suit your requirements.
Position = Top-left / Top-Centre / Top-right / Bottom-left / Bottom-centre / Bottom-right

Animate = From top / From bottom / From left / From right

Text align = Left / Centre / Right / Top / Middle / Bottom

Margins = Narrow (25 pixels) / Moderate (50 pixels) / Wide (75 Pixels) / Extreme (100 Pixels)
Bold options = selected by default
Ideas for the Graphic
Create a graphic that compliments your brand.
Asset Download
Take advantage of downloading our default assets as a guide to create your own, if you wish to change them.
Layout = Panels

Use this layout option for a straightforward set-and-forget approach to the placement of your caption. Change the colours for: Font, Panel colour & Panel highlight colour.